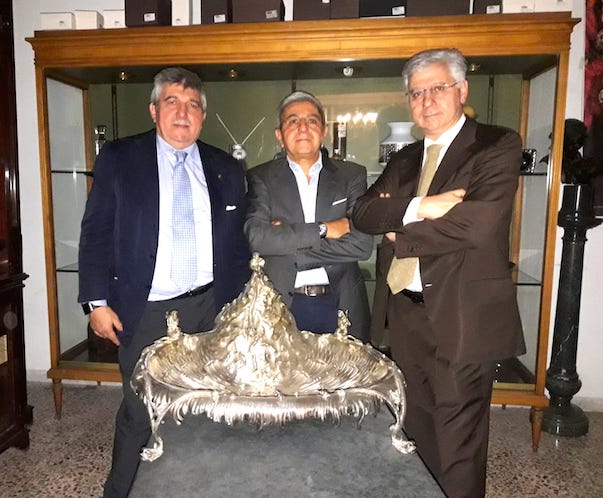 de Laurentiis, since 1897, is the company specialized in the processing and marketing of silver jewelry and objects. Leader in the sector of online sales is also aimed at satisfying the needs and desires of a demanding and refined public.
His is a long and fascinating story, tied to a passion called art. The progenitor is Vincenzo de Laurentiis, descendant of the ancient patrician family ascribed since the 15th century to the Seggio di Porto, son of Carmine de Laurentiis, professor of music and inventor of the mandolin technique. Son of art, Vincenzo soon felt the need to devote himself to engraving, a particular technique known since ancient times and began to cultivate the noble goldsmith's art.
He uses the burin - a small tool with a sharp tip with which he removes the material from the surface to be worked - in his workshop at Borgo Orefici, with the skill of a painter, capable of reproducing live on the silver the various models chosen with such fidelity and precision to be appointed president of the category.
Later, in that same shop in via Grande Orefici, Vincenzo's son Roberto associates the artisan business of marketing exclusive silver objects and sacred items handmade by illustrious contemporary artists, under the careful direction of his brother Ernesto, Bishop of Ischia until 1956. With Franco, Roberto's son, the company expands to become a leader in the sector. For his merits he is appointed expert of the fifth commission of the Chamber of Commerce of Naples, adviser of the Campania goldsmith association and awarded the gold medal by the Italian Economic Messenger.
In 1980 Franco sold his company to his three children Roberto junior, Salvatore and Gino, the fifth generation of the de Laurentiis family, which expanded the business by adapting it to new needs and started the largest distribution of unmatched silver in Southern Italy.
For more than a century, the de Laurentiis family has been dedicating itself to the selection of the most prestigious and artistic silverware to satisfy the taste of the most refined and competent customers over time, distinguishing themselves for professionalism and loyalty to the ancient "Borgo Orefici". The company was awarded the "Grand Cross of Merit", intended only for companies that stand out for their professionalism.
Currently, Roberto de Laurentiis, partner of the company de Laurentiis S.r.l., is president of the "Antico Borgo Orefici Consortium" of Naples in which he has been interested in urban redevelopment and the commercial relaunch of the goldsmith activity carried out in the Borgo Orefici; vice-president of ASCOM (General Association of Commerce, Tourism and Services of the Province of Naples) with delegation to the Historic Center of Naples; counselor of CONFIDI PMI Campania, Roberto de Laurentiis is the purchasing and public relations officer, Gino is the designer of the company's models and takes care of customer relations, Salvatore is concerned with the business organization.